According to a report by Acumen Research and Marketing, the size of the medical equipment rental market is estimated to reach an astounding $ 65 million by 2026. This is due to the fact that the demand for medical equipment is taking a paramount route with each passing day.
From Clinics, Hospitals and Individual clients the customer base that relies on medical equipment is quite varied. Nowadays, most of the hospitals and Clinics are preferring to rent out their equipment rather than buy or lease. This provides them with much monetary flexibility as with the advent of technology medical equipment may not be as relevant tomorrow as it is today and investing huge amounts of money on them may incur big losses for Hospitals and Clinics.
Opportunity to boost rental business
A streamlined process is very important for better and smooth business. The medical equipment rental system can help you achieve this and make your rental operations more streamlined.
Let us take a look at the opportunity more closely!
According to the data given by www.grandviewresearch.com the majority of medical equipment rental market share is occupied by storage and transport devices followed by surgical and durable medical equipment.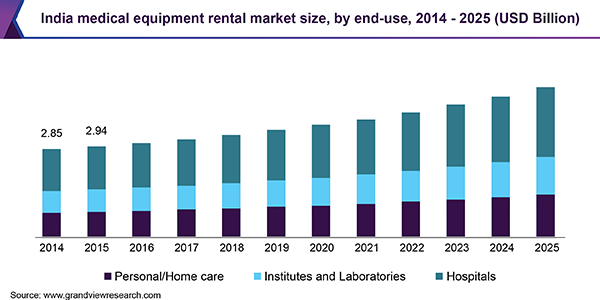 The prospect of growth in this particular business model is very high and let us see how the software can help us enhance the process flow.
Tracking
Manually tracking your inventory can prove to be quite gruesome as you are vulnerable to human error. This can cost you your business. Automated inventory management helps you keep track of your business precisely from a centralized database.
The software also helps you to keep an accurate count of your equipment since you can track the exact movements of them by scanning the QR code and through location audit trails.
Flexible Pricing
Flexibility in pricing is very important as the customer requirements are different and the time period for which a piece of equipment is rented varies. With the software, you can easily customize and zero in on the pricing based on an hourly, weekly, or monthly basis catering to the different customer requirements precisely. Promotions, Discounts, and personalized rates can be set for customers.
No more headaches over the payment process
You can keep track of payments correctly as the rental software has to tie up with reputed bookkeeping applications such as Paypal and can help you tidy up your payment processes with minimum fuzz.
An attractive showcasing of your inventory online
You can also add all the information including attractive photographs, pricing, and availability using the software. This can give customers a better idea about availability, pricing and they can easily place orders without having to visit your physical store. It also helps to land your business among a wider audience and helps boost your rental services.
Track the condition of your equipment easily
Wait a minute! Your costly equipment might have stepped out of the warranty period or is nearing maintenance, these minor lapse can cost you much. With the medical equipment rental software, you can avoid such glitches as you can set alerts using the software to give timely maintenance and service to your equipment and keep track of the expiration of the warranty.
This can help your business get a competitive edge as you are up to date and supplying medical equipment that is well maintained and efficient. Thus adding more value to your reputation as a medical equipment rental business owner among your customer base.
Its time to make your business the best
Having medical equipment rental system can definitely help propel your business forward. So what are you waiting for, switch your business model and make it the most efficient one in the lot by utilizing medical equipment rental software to streamline and enhance your processes to make your business the most hassle-free one.
Equipment rental Software

Aswathy
Aswathy is a content writer and blogger at Pofi technologies. In her free time, you will find Aswathy obsessed over books, news media, and music.